Radon Mitigation Problems at the Time of Sale
How Radon Can Influence Selling or Buying a Home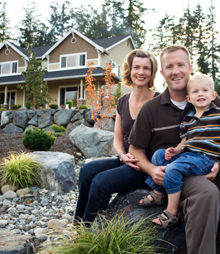 Each home is designed with its own unique touches, including variances in style, color, layout, and location.
However, regardless of the home in question, each one shares the potential for high radon levels. Whether the home is older or younger, it is vulnerable to radon entering, building up in concentrated levels, and creating a dangerous environment in the home.
When radon is found in a home, it's important to create a mitigation plan as soon as possible to safely reduce the levels in the home. Along with the obvious health implications, it's also important to remember that the presence of radon is something that all real estate agents consider when looking at homes in the marketplace.
To get in contact with an expert who can help you with radon testing and radon mitigation, contact us by phone or email today!
Iowa Radon Defense is a trusted member of the nationally recognized National Radon Defense network. We are trained, certified, and experienced in lowering the radon levels in homes throughout our service area -- including Des Moines, Ankeny, Ames and many areas nearby.
How Your Foundation May Influence A Home's Radon Levels
Generally, a home foundation can be put on one of two categories:
Slab-On Grade Foundations
Basement/Crawl Space Foundations
Both foundation types are compatible with a foundation mitigation system. However, some houses are easier to provide radon mitigation for than others. Some may even not be receptive to any further mitigation. How much radon is present in a home is an important detail -- one that any homeowner will want to know before buying to selling the building.
Radon is pulled into a home through a process known as the "stack effect".
As warm air leaves your home through the attic and upper levels, new air is pulled in from the basement, crawl space, and lower levels of the home.
How Radon Gas Enters Homes
Your foundation's design and condition is critical to understanding the ways that radon enters into your home. Since radon originates from decaying uranium within the soil, it's no wonder that an enormous source of radon gas in a home is through a cracking foundation.
Most naturally-occurring soils have some level of uranium content. As this uranium decays, it breaks down into radium and polonium, which then degrades into toxic radon gas.
Radon gas in the soil under your home will work its way into your home through all cracks and crevices, making its way into the living space of your home.
The difference in pressure between the outdoor and indoor air is actually what causes the vacuum-like suction that draws the new, unconditioned air through the foundation. The indoor pressure is much lower than the outdoor pressure, which means even the tiniest cracks serve as a vacuum, sucking in the outdoor air. Thus, the radon begins to build up, especially during the colder months when the windows and doors are tightly closed.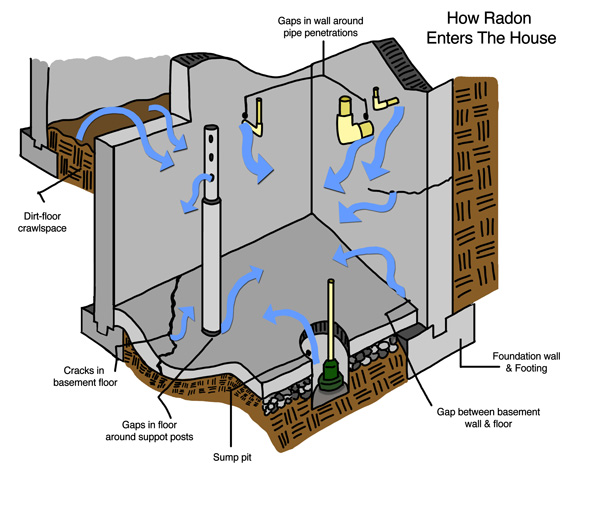 What the Radon Results Mean
Is it a good idea to buy a home if your realtor says it has moderately high levels of radon?
Generally, a realtor will request information about the radon levels of a home. Radon gas is measured in picocuries per liter (pCi/L). There are three levels of severity used to indicate radon levels:
High: 4.0 pCi/L and above
Moderate, 2.0 - 4.0 pCi/L
Low, 2.0 pCi/L and below
The Environmental Protection Agency (EPA) recommends that homeowners reduce radon levels in any environment where concentrations of 4.0 pCi/L or above are present. The World Health Organization (WHO) recommends a much lower level (2.7 pCi/L or higher) be the actionable level.
Why the difference? According to Dr. Maria Neira of the WHO, the majority of radon-induced lung cancer cases are not the result of high radon levels, but are actually the result of long-term exposure to low or medium levels. Experts agree that any radon exposure is unhealthy.
If you have detected unsafe levels in your home, Iowa Radon Defense can help you install a mitigation system that will reduce your home's concentration levels. Our experts can also provide you with proper maintenance, ensuring that your system is as effective as it can be.
Putting Your Home In The Real Estate Marketplace
A strong base of knowledge about radon is the sign of a great real estate agent. Your realtor should be aware of a home's radon levels and advise you on how best to deal with a potential radon issue before you try to buy or sell. When possible, request the current levels, and have the home mitigated to be sure the radon levels are as low as possible.
If you're considering building a home, bear in mind that radon may still be an issue. Because radon is more expensive to deal with later on than to prevent in the first place, this is the best time to take action. Ask your builder to install a radon resistance system as the home is built.
According to the National Association of Home Builders, one home in six is constructed with one of these systems in place. This means that about 200,000 homeowners are taking the initiative to protect their families as their home is built. This investment is viable -- and very worthwhile!
We are the radon authorities for Iowa! To meet with one of our experts for a free, no-obligation radon mitigation system quote, contact us by phone or e-mail today!
Looking for a price? Get a no cost, no obligation free estimate.