Your


Indoor Air Quality


Experts
Radon Testing • Radon Mitigation System
Indoor Air Quality • Commercial Services
Why Homeowners Choose Us
At Iowa Radon Defense, we believe in delivering a remarkable customer experience from start to finish. You can count on our experienced team to perform a thorough inspection of your home and provide a detailed explanation of the problem, how we'll fix it, and how much it will cost. With tailored, proven solutions, you can rest assured you and your family are protected long-term.
Homeowners throughout Central Iowa choose Iowa Radon Defense because they trust us to provide permanent solutions that protect their home and everything in it. We take that responsibility seriously, and we strive to deliver exceptional results using only the highest quality products and services. Our radon mitigation and indoor air quality solutions have helped countless homeowners create cleaner, healthier, and more comfortable homes — and we can do the same for you! Call Iowa Radon Defense today!
Industry Leaders
Locally Owned With National Resources
Reliable Service
Holistic Indoor Air Quality Solutions
Trustworthy Crew
Trained & Experienced Technicians
Customer Support
Hassle-free financing & free written estimates!
Trusted Radon Mitigation Company Serving Central Iowa
Reliable air quality services in Des Moines, Ankeny & nearby
Worried about radon and other contaminants in your Iowa home? Iowa Radon Defense can help! We are the Central Iowa area's air quality expert, offering radon testing, radon mitigation, and indoor air quality services. As a proud member of the National Radon Defense network, we use only the highest quality products and techniques. Whether radon, allergens, mold, or another issue, you can count on our trained experts to provide effective solutions for cleaner, healthier air.
Contact Iowa Radon Defense today to learn more about our radon and air quality services. We offer free estimates in Des Moines, Ankeny, Ames, and nearby areas in Central Iowa.
Protect your home with effective radon & indoor air quality solutions
Radon is a naturally occurring, invisible gas that poses a serious threat to your health and safety. It is one of the leading causes of lung cancer, second only to cigarette smoke, and is responsible for more than 21,000 deaths annually. Because it is odorless and invisible, radon is impossible to detect without specialized equipment. While it occurs naturally throughout the United States, certain parts of the country pose a higher risk for elevated radon levels — and Iowa is one of them.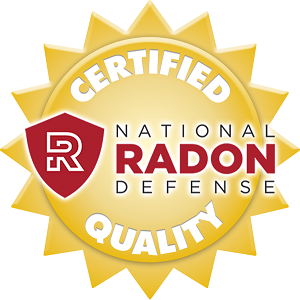 The good news? As your trusted radon company, Iowa Radon Defense can keep you and your family safe with reliable radon testing and radon mitigation in Ames, Ankeny, Des Moines, and the surrounding area. If a high level of radon is detected during our radon test, you can rest easy knowing we have the expertise and solutions needed to efficiently reduce radon concentrations and keep your home protected. Our experts will work with you to install a radon mitigation system that is tailored to the unique structure of your home to ensure the system works as effectively as possible.
While radon is a serious issue, it isn't the only air quality problem that can affect your home. Pollutants such as allergens, mold, volatile organic compounds (VOCs), and other contaminants may also be present in your home and lead to serious health problems. Iowa Radon Defense can eliminate a wide variety of pollutants and create cleaner, healthier air with our indoor air quality solutions, which include vapor intrusion mitigation, dehumidifiers, air purifiers, and more.
Trust the indoor air quality experts at Iowa Radon Defense
When it comes to creating a safe, healthy home, families trust the pros at Iowa Radon Defense. Our team has the knowledge, tools, and resources to keep your family safe. As part of the National Radon Defense network, our radon testing, radon mitigation, and indoor air quality solutions are second to none. Best of all, we offer industry-leading warranties and maintenance packages so you can feel confident knowing your home and family are protected long-term.
Contact us at 1-515-416-8521 or online today to schedule a free, no-obligation estimate for any of our services. We proudly serve residential and multi-family property owners throughout Central Iowa, including Des Moines, Ames, Ankeny, Waterloo, West Des Moines, and areas nearby.
We serve the following areas
Agency
Barnes City
Batavia
Blakesburg
Bloomfield
Brooklyn
Cedar
Chelsea
Chillicothe
Clutier
Deep River
Delta
Dewar
Drakesville
Dunkerton
Dysart
Elberon
Eldon
Evansdale
Floris
Fremont
Gibson
Gilbertville
Guernsey
Harper
Hartwick
Hayesville
Hedrick
Keota
Keswick
Kirkville
La Porte City
Libertyville
Lockridge
Martinsburg
Ollie
Packwood
Pulaski
Raymond
Richland
Rose Hill
Sigourney
South English
Thornburg
Vining
Webster
What Cheer
Our Locations: